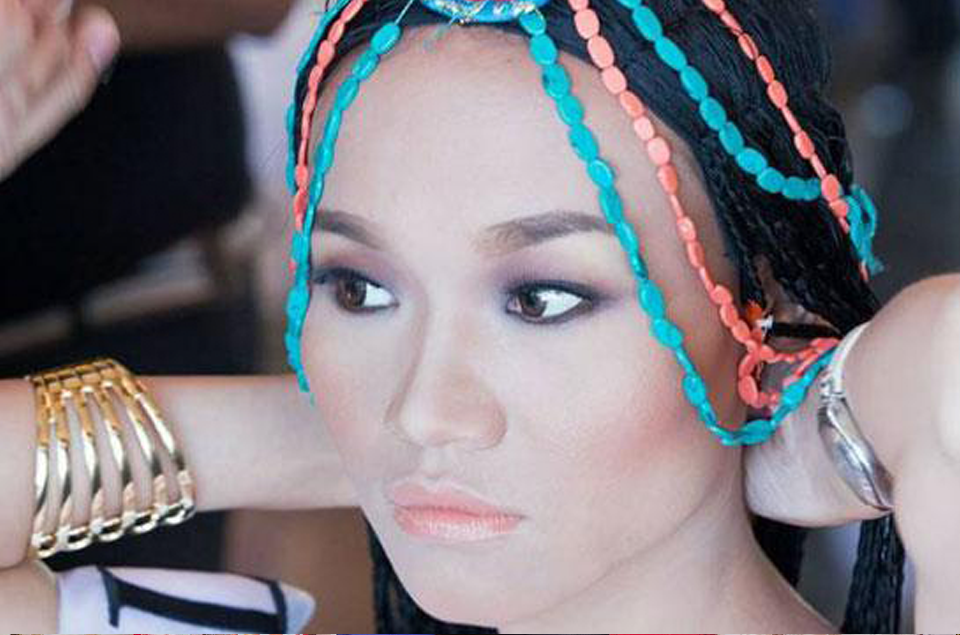 I don't know if all girls dream of becoming a beauty queen, but I did. Indeed, I dreamt and achieved it.
My personal conception of a beauty queen, however, goes beyond just the requirement of a good physical appearance to become a role model for women in our society. So, when I was crowned Miss Tibet this year, I cried knowing my dreams had finally come true.
But my dream didn't end there; after winning the crown, I wanted to participate in an international beauty pageant as the representative of my nation, Tibet. Fortunately, one evening through Miss Tibet founder & director Lobsang Wangyal, I was invited to participate in the annual Miss Global competition in the Philippines. Since I was still a student I tried to figure out how I could afford the trip financially, wishing desperately for some sort of fairy godmother to help me.
Of course, in real life you don't get a fairy godmother magically popping up in your time of need. In my case, however, my fairy godmother took the form of a collective of big-hearted people who came together to fulfill my dreams. With the help of a generous group of sponsors– including my godparents, friends, sisters, aunty, the talented fashion designer Yash Vardhan, Tola Trailor and Run Away Fashion, the Tibetan Women's Association (TWA), SGIG, Chokhor Tour and Travel, and of course Lobsang Wangyal– I was able to accept the invitation and compete in Miss Global International 2015. I am truly indebted and eternally grateful to each one of the individuals who made it all possible.
I heaved a sigh of relief when my plane finally took off. I was well received at the airport and taken to the luxurious Azumi Hotel. I was interviewed about my journey and thoughts on the competition. I thanked the pageant organizations for granting me this opportunity and for including Tibet in the pageant. There were women from 50 different countries, including Native American US, some of which are not included in other international beauty pageants. Given the disputed political status of Tibet, I expressed how deeply honoured and grateful I felt to be representing my country as a Tibetan woman.
In those fifteen days in Manila, I learned, experienced, and was exposed to things that I had never before thought possible. The entire time I was there I felt like I was living in a dream. That said, it was still a competition and, thus, strenuous; some girls even fell ill due to the intense schedule and lack of rest. Although it was a great challenge for all the participants, the obstacles we faced together fortified the bond between us; by the end, we became like sisters to one another. Like a great big family, we all worked tirelessly to put together our best performance on the finale night. Although many of the girls didn`t receive crowns or prizes, all that truly mattered in the end was the sisterhood we forged after tackling all those hurdles together. Meeting all these inspiring young women ultimately made me realize that, despite adversity, our dreams are truly possible if we move forward with confidence and determination.
I'll never forget the happiest moment during my time there; it was during the finale night, a truly grand affair, when I got to walk onstage and carry the Tibetan national flag down the runway in my beautiful chupa (traditional Tibetan dress). As I walked proudly down the runway with my people's flag held high above my head, I was cheered and applauded by the audience, whose energy and enthusiasm gave me incredible pride and honor to be Tibetan. Though Lobsang Wangyal had advised me not to be too political, I couldn't help it when the personal was so political. Filled with energy and joy, I even made a video montage of my fellow pageant contestants (including Miss China) boldly declaring, 'I love Tibet' to the camera. A major reason I wanted to participate in this international beauty pageant was to show the world that Tibet is a proud nation with a distinct cultures and unique traditions. I felt I had proved this particularly in the photo shoot where I got to wear my cultural dress, the chupa, which was incredibly rich and strongly stood out among all the various countries.
My experience in the bikini round, however, was very different compared to most of the other girls in the pageant as it was the first time in my entire life that I had worn one (and had to walk around in it on stage). However, after seeing all the other girls walking with such confidence before me, I became assured that the bikini, the thought of which had made me so nervous all this time, was not the vulgar, shameful thing that I had been taught to believe. After that demystifying experience, I now strongly believe that if people can respect a woman in traditional attire, then they should learn to respect a woman in a bikini as well.
One thing that was constantly on my mind was the significance of my participation for my country. Though it was a beauty pageant, I still tried my best to highlight issues facing Tibetans by discussing my experience growing up as a refugee to the girls and displaying the flag of Tibet whenever I had the opportunity. I truly believe that a beauty pageant can be as strong a form of creative resistance for Tibet as any other activity; whether by organizing a rally or through song and dance– the ultimate goal of all these things is the same: to show the world the distinct, sacred culture and history of Tibet.
In my case, an international beauty pageant was my opportunity to share my people's story and struggle as a nation with the world. Indeed, my very presence on that stage was a daring form of protest against the Chinese government. This bold challenge became clear when I realized that Beijing had felt so threatened by my participation in the beauty pageant that they sent men to follow me throughout my trip all the way from India to the Philippine capital of Manila. Fearing for my safety with these Chinese agents relentlessly stalking me at every leg of my journey, I ultimately had to be taken home at the airport in New Delhi by security. My sash– which has 'Tibet' boldly inscribed on it– bears incomparable importance to me and many others because it has truly come to symbolize the struggle and resistance of a nation in exile.
Make no mistake about it– I am a feminist. As such, I am against those beauty pageants that only have a singular focus on physical beauty with a total disregard for moral and intellectual qualities. In my opinion, a beauty pageant is a double-edged sword; as long as you use it right, you can avoid causing harm. We have to make sure beauty pageants lace as much importance on a woman's intelligence and moral values as on her physical attractiveness if we want to show the world that a woman is worth more than just her body.
http://www.tibetanfeministcollective.org/2015/11/15/miss-tibet-miss-global/